A virtual office offers you the benefits of an office environment and a virtual address in Bangalore without actually renting the physical space. Having a 
virtual address in Bangalore
 gives your business a professional touch and this is why virtual office concept is becoming very common in the city. You can use the virtual address for company registration, GST registration etc.
A key benefit of virtual office space is the professional address. Your address can be used on all your business correspondence and mail, which will reassure your customers and build trust. Plus, our efficient post forwarding service means you'll always get your mail on time.
One major attraction there's no office lease, no utility payments, no hardware and none of the associated costs that come with having a brick-and-mortar space. All that savings can not only be passed along to clients, but it also affects your profit margin, allowing you to invest more in your people
The market of your product is too small when you are restricting yourself to a particular location. If you can set up virtual offices in all major cities like Cochin, Mumbai, Delhi and Chennai and all 29 states of India, your customer base becomes much larger. Renting out physical office spaces in so many locations is not feasible for small companies. By simply having a virtual address and phone number in all major cities, you can increase the market reach for your product.
Along with virtual address and virtual phone number, most of the virtual office providers offer personalized reception services, virtual fax and mail handling in Bangalore.
With a virtual office in Bangalore, you get all the advantages of an office in the city without the actual office space.
As the virtual office concept is getting very popular in all major cities of India, Bangalore is also not an exception as there are several virtual office providers coming up in the city. Now you can easily impress your clients with office addresses in several parts of the country by using the concept of virtual addresses.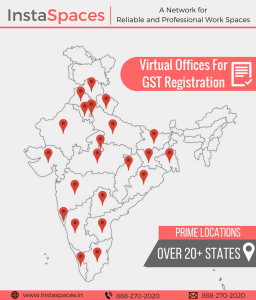 The current scenario is very much in favor to unleash your entrepreneur mind. That too PAN India can provide you with awesome options. 
InstaSpaces one of the best virtual office serives provider in all 29 states of India.
Get a Virtual Office
To incorporate your business, you can utilize InstaSpaces virtual office solution. It provides business address in a very affordable prize.
Additionally advantages like:-
Professional phone answering through dedicated line
Weekly mail forwarding options.
They will handle your mails, couriers and fax with at most care.
InstaSpaces Co-working Space
Whenever you are in need of physical space for temporary utilization, you can utilize their co-working space
Co-Working
You can book their meeting rooms, conference room etc., according to your needs and solely concetrate on your business. 
We at InstaSpaces strongly believes in providing mobility solutions to today's workforce.So we are in the market to bring you the best workspaces and meeting roomns available near to you .
Bookable on an hourly basis also
This allow individuals and companies to operate business from any location in the world, without having to pool in heavy capital for a rented commercial space, classy office rooms, high-end technology gadgets and staff drawing high salaries.
You can also contact us at the points mentioned below
Phone:- +91-888-270-2020
Email:-  [email protected]