Virtual work spaces are the best professional answer for the present fast moving and flexible business requirement. We have a Virtual Office intended to match your business needs. All of the advantages of a physical office can be obtained with virtual office for a small monthly fee. In this way, you can also register your organization in Bangalore without the need to rent or lease a physical office space.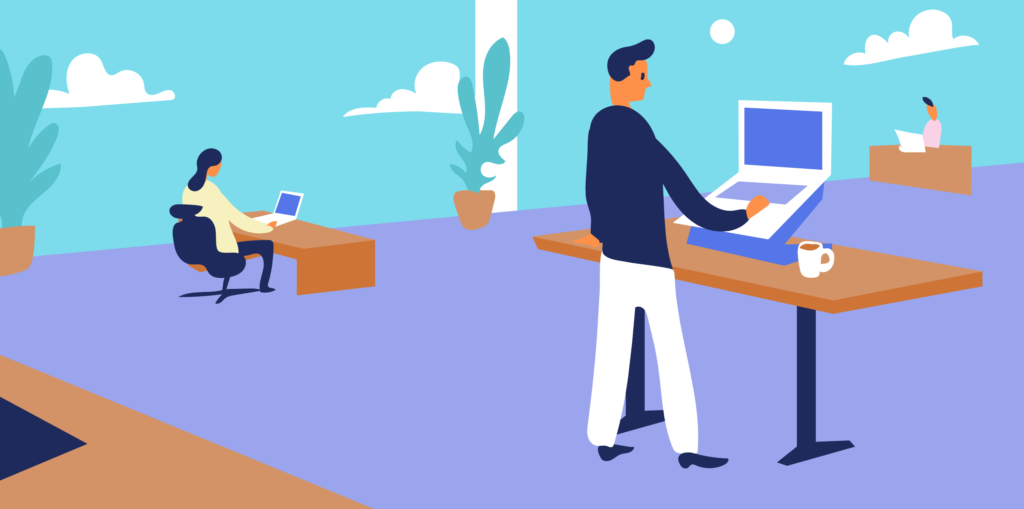 Taking a virtual office will allow you to open your office with no time and start your work in the same time. You will be given an prime location business address, with complete set of documentation required for company registration and GST registration, including all in-office administration support.
Virtual Office in Bangalore for GST Registration
By using a virtual office in Bangalore, you can create and show your presence in one of the most sought-after prime locations in India's IT capital—Whitefield. With InstaSpaces financially savvy virtual office address in Bangalore, your GST registration draws one step nearer with all your important business core activity, while making a significant effect in the corporate world, joined by a super cost-effective prime office address. Other admin support, for example, mail handling, business meeting room, and client support facilities, are available on request to make your virtual office more appealing. That way, you are never a long way from having the option to deal with uncertain business circumstances. Getting a virtual location in Bangalore is very quick.
The large attractions of Bangalore
Apart from this, practically every corporate organization has their office in Bangalore. Apart from this, Bangalore is an optimal spot for new companies and small-medium-sized organizations. Despite the fact that Bangalore is known as an IT centre and each third individual may be a programmer by calling themselves a programmer, Bangalore has offered abundant chances to different businesses for their development.
Regardless of how big or small, every business or organization might want to have an office in Bangalore because of its best framework and all the more significantly, because of its possible clients and financial investors.
The high cost of office premises with all of the amenities and rentals can act as a deterrent in the development of a start-up or small business. What could be the best answer to this? The response is the virtual office. Indeed, you heard it right; you can have your virtual office in Bangalore. It simply has the name "virtual office," but it gives all of the important office facilities that are required for the smooth function of any business.
Offices given by virtual workplaces in Bangalore
A virtual office gives you a valid office address in Bangalore for your business. The valid office address given by virtual workplaces can be utilized at different locations. Virtual office addresses in Bangalore can be utilised for bank account opening. The virtual office in Bangalore can receive your mails. At times, clients need to converse with the front office rather than directly with the business. As per your business needs and virtual office plan, you can pick different plans in view of how your calls will be taken care of and how your client call will be handled by the virtual office in Bangalore.
Virtual offices in Karnataka, particularly in the Bangalore region, are all around designed and furnished with all of the most recent and current offices required to run a business full-time practically depending on the specific company requirement.
Virtual office can reduce your overhead operational expenses. You don't have to pay the high rent for every one of the offices; Virtual workplaces can be utilized as physical workplaces for the different business work that incorporate client gatherings, meetings to generate new ideas for the group, meet-ups, and a lot more at an normal cost. Assuming you are searching for virtual workplaces in the Bangalore region, Instaspaces is prepared all of the time to help you in your search, and the point is that you can get virtual office plans as per your business specific requirements.
Bangalore city has turned into a business centre point, so to have an organization prime address for your business development, you should surely choose virtual workplaces in Bangalore.
The addresses of your virtual workplaces in Bangalore
Electronic City in Bangalore don't need any proper presentation. Throughout the time frame, Electronic City in Bangalore has positively turned into the focal point for organizations in Karnataka as well as across India. Having an office in Electronic City could be a major advantage for your business. InstaSpaces gives a completely practical virtual office in Electronic City, Bangalore. Virtual workplaces in Electronic City can assist you with cost effective GST registration. Your virtual office in Electronic City gives you an prime location corporate organization address that can be utilised by your business in different public as well as private registrations.
Whitefield in Bangalore is well known for its tech parks, shopping centres, and as an amusement centre. Whitefield in Bangalore is otherwise called one of the two significant IT locations in the city. Having a virtual office in Whitefield could be a distinct advantage for your business. InstaSpaces gives you with a professional virtual office in Whitefield that can be utilized for different business-related activities.
Indira Nagar is exceptionally well known among young generation because of its energetic nightlife. Indira Nagar is otherwise known as one of the most well-known office areas of Bangalore. We at InstaSpaces are resolved to furnish you with the best virtual workplaces and offices that are budget-friendly as well. There are various virtual workplaces in Indira Nagar. You can pick any of them as per your requirements.
The virtual office in Bangalore can be utilized for your organization's address and can be changed over into completely useful, genuine cooperating space according to the requirement. The virtual office is exceptional with every one of the business facilities and present-day office conveniences.
Bangalore provides high-quality services to its residents. High-speed internet, limitless refreshments, office support, available on demand in a cost-effective manner.
In the event that you are searching for a virtual office we have a well-organized virtual office nearby. Your business can take advantage of organization registration, GST registration, and front work area taking care of in our virtual office.
Koramangla was created as a middleman for different organizations and associations. Koramangla is exceptionally well known among businesses because of its high-quality offices. If you wish to have an office in Koramangala, a virtual office in Koramangala presented by InstaSpaces could be your ideal decision.
Assuming you really want a virtual office that offers WI-Fi, offices, printers, and free drinks, simply converse with a specialist at InstaSpaces.
A Virtual Office in Karnataka provides organizations with a physical address and office-related support services, without spending money of a long-term lease and operations staff in Karnataka. A vital advantage of the virtual office in Karnataka space is the professional prime location.
This can be utilized on your business correspondence and mail, which will build trust for your clients. We offer support for virtual offices in Karnataka, which supports representatives and entrepreneurs to work from a distance by giving them business support through the internet/web. Also, if you are going into business and need to save money.
Virtual business or virtual office in Karnataka is the best decision. Also, if your staff are ready to work from their homes or if the market for your product is too small when you are confining yourself to a specific business area. You can set up a virtual office in Karnataka or in all the important city like Cochin, Mumbai, Delhi, and Chennai, etc., your client base will become a lot bigger. For small organizations, leasing high cost office spaces in such business areas isn't possible. By just having a virtual location and telephone number in every required city, you can expand the market and increase your sales. Aside from virtual location and virtual phone number, the majority of virtual office suppliers offer customized office support, virtual fax, and mail handling. With a virtual office for GST registration in Karnataka, you get all of the benefits of an office in the city without the real office space.
InstaSpaces likewise offers co working space, on-request meeting rooms, for your business needs in Bangalore. Our Bangalore Indiranagar Office is situated exceptionally close to the Indiranagar Metro Station.
InstaSpaces virtual office in Bangalore. We have flexible and adaptable Virtual Offices intended to match your business needs. Presently, buy into any of our Virtual Office plans and get your GST registration, Organization/ROC Enlistment, FSSAI registration, IEC Code, Duty registration, and so forth. We will provide you with lease terms, no-occupancy notices, and service bills, among other things.
Phone:- +91–888-270-2020
Email:- [email protected]
Happy Office Hunting