Previously known as Madras, Chennai is the capital of the southern state of Tamil Nadu. The city is one of the prime financial, and Business city in India. The city has become an excellent place for business growth; the progression has taken the city higher than ever in business. Occupants from everywhere in the nation come to work and take office space in the city. Chennai is one of the most popular places to develop a business professionally and monetarily. The small business sectors, such as Nungam bakkam, Anna Nagar, and Guindy, have seen good growth in the co working spaces industry, the city has space for new businesses and helps them to develop by giving them work areas and the chance to competitive in business with the help of virtual office co working spaces.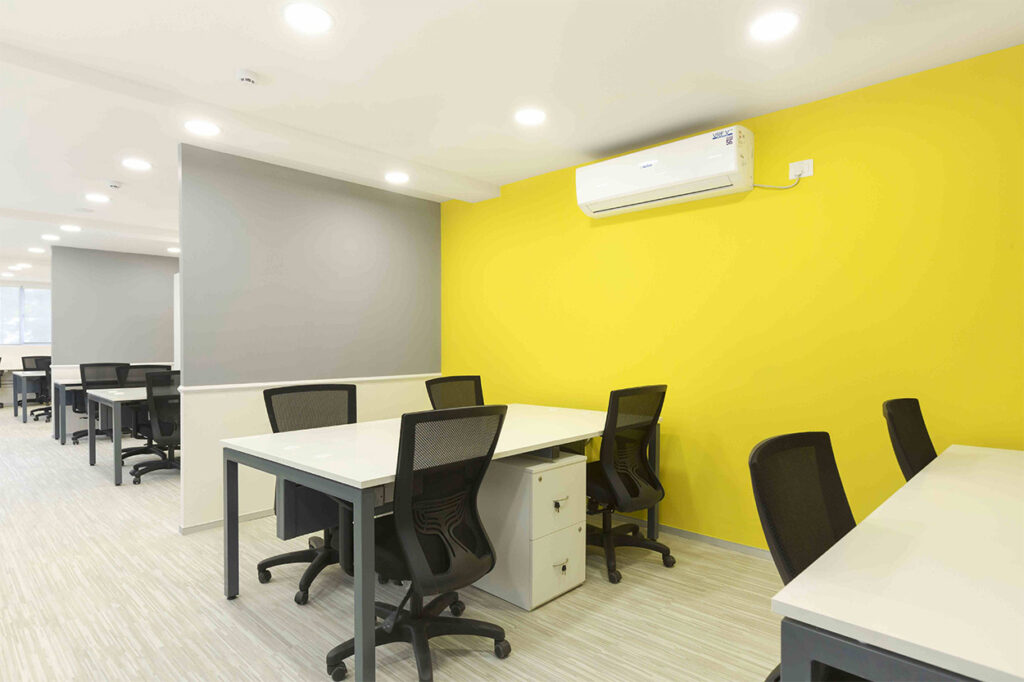 A virtual office in Chennai act as a point of interaction for an association in a specific area. As the name suggests, virtual workplaces are low cost support services that give office-like administrative support to the new businesses. Virtual office spaces offer places of work for applying for GST registration of an organization in India. The growing idea of a virtual office brings new customers for the business. Once we understand, virtual office may provide the assistance you require for overall business growth without incurring financial burden on the business owner.
Chennai is a place that is known for open doors for business people and new companies. It has clinics, banks, lavish lodgings, shopping centres and different vacation destinations, and so forth. It is a very evolved city with high education rate and an eminent social framework. By booking a premium virtual office space with us, you will get your prime work location in Chennai. When we think of Chennai, an image of the genius Rajanikant usually pops into our heads, but Chennai is not only known for Rajanikant, it is also a hub for various corporate workplaces and organizations.
The city of Chennai has a warm climate all year round, yet that doesn't stop organizations of all shapes and sizes from coming in Chennai. Chennai is probably India's best city for being safe for women. You might see numerous women going to their office courageously for their night shifts also. At its best and socially most extravagant, Chennai is a force to be reckoned with by many organizations. Chennai is home to many big MNC organizations and SMEs.
Businesses that are thriving in Chennai
The vehicle industry, electronic equipment, computer programming, and petrochemical businesses are some of the principal businesses that are thriving in Chennai. Normally, with this growth of offices, nobody might want to lose the chance of having a business office in Chennai. If you want to start your business yet can't manage the cost of a real estate office, a virtual office in Chennai will fill your needs well indeed. You can utilise a virtual office at an low expense, and on request, you can change it into a real physical office. GST registration will be very easy with virtual workplaces in Chennai. GST registration is a vital part of any business, be it big or small. We will assist you with the time-consuming task of GST registration. The InstaSpaces joyfully helps you with GST registration for your business.
Register your business at a professional business location in Chennai. InstaSpaces will assist you in getting virtual workplaces in Chennai and obtaining a NOC from the owner of the space. You also get access to the paid service of meeting rooms at normal cost and other administrative support services.
Experience the Benefits of Virtual Workplaces in Chennai
Being one of the most basic cost-effective business in India, a good number of the world's MNCs have workplaces in Chennai. The amazing open doors for businesses in city are very attractive. The Virtual Office plan give access to mail handling and administration support.
Get Prime Work Locations in the Core of the city Chennai
Our expert sales team can answer all your doubts regarding virtual office and its benefits for an organisation for the most sought-after places of work in Chennai. With our virtual office, you can complete the booking on the web, all is done in a matter of minutes. When you have selected your choice of location, then all we will require is some information about your organisation to proceed further to get you virtual office.
Show your companies presence in a business location with a virtual office. If you are entering a new business market, and like to work from a distance, or are preparing to put your financial resources into renting a physical office, then virtual office could be what you really want.
How to get a Virtual Office Space in Chennai
You can, without much of a effort, get your business presence in Chennai by booking a virtual office through InstaSpaces. If you have any questions, you can call the client service number 08882702020.
Benefits of having a Virtual Office Address in Chennai
The primary benefits of having virtual workplaces in Chennai are: –
There will be no time waste in daily driving.
No Utility payments.
Zero equipment consumption.
No heavy cost of office leases.
Useful in Business expansion
Adaptability in the usage of service.
What kinds of Organizations choose Virtual Workplaces
The organizations that go for a virtual office are working from home business owners, new businesses, start-ups, SMEs. For instance, online sellers, travel agents etc.
What offices do you get when you book a Virtual Office in Chennai
In Chennai, the virtual workplaces offer complete mail management, audio video conferencing offices, meeting rooms for office gatherings, business phone numbers, professional work locations etc.
What is the minimal expense for a Virtual Office in Chennai
In Chennai, the least expensive or minimal expense virtual office spaces are approximately around Rs. 1000/per month.
This virtual office address can be utilised in starting a business financial business or in some other bank-related work. You'll be shocked to find that you can profit the most from the virtual office plan. The InstaSpaces gives and helps in getting the least expensive and best virtual workplaces in Chennai, Tamil Nadu. Minimal expense virtual workplaces in Chennai could be needed by numerous new companies and start-ups. Aside from the above offices, virtual workplaces in Chennai give mail dealing with administrations, messengers taking care of administrations, and front work area upholds. These are essential things. Aside from these, you can have other modified offices at virtual workplaces in Chennai. For additional help, you can visit our site at virtual workplaces in Chennai.
Flexibility are the most significant variables in the land business everywhere. An adaptable work area assists you with cruising through difficult times of change. A versatile and adaptable work area not only offers an exceptional workplace for yourself as well as your groups, but additionally improves choices for your business's development. Virtual workplaces allow for large amounts of call and mail to be handled by the business. Also, think about the cost virtual office represents no issue to the business's pocket. They are a reasonable cost-effective choice and reduces 80% of the expense compared with actual workplaces. Alongside reasonable pricing, a virtual office in Chennai empowers hassle-free GST registration. Presently, you can get a virtual office for GST registration done effectively through internet.
Aside from its primary application, the virtual office has also become a viable option for those looking for office address in various cities across India without too much trouble and at the lowest possible cost. It may very well be utilized by both big organizations and sole merchants/ online sellers at the same time makes it one of the most adaptable offices with regards to its usage an services.
Business people who intend to open offices in India in the future and have already established a few contacts here can benefit from a virtual office through which they can stay in touch with their Indian partners.
A virtual office helps in testing new business areas for the growth of your business, We at InstaSpaces have been providing virtual office address and its services on PAN India, for many years, we make sure our clients get the best cost effective virtual office and they should be able to reduce their business cost and be satisfied with our service. We are continuously improving our services by getting new virtual office spaces all over India. Our dedicated sales team makes sure to give best location to our clients, our PAN India virtual office service make us unique in providing virtual office service. With time more and more services will be attached with virtual office plans and this will help new start-up businesses to become competitive with big corporate also. So, the future of virtual office service is bright and every business in India should be aware about virtual office.
Phone:- +91–888-270-2020
Email:- [email protected]
Happy Office Hunting